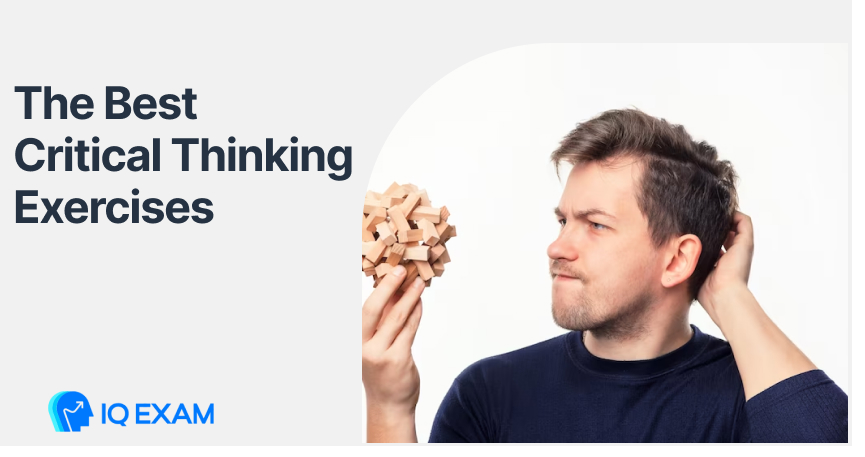 Critical thinking is one of the best methods for developing cognitive abilities and improving performance. It will boost your value as an employee and help you analyze different to overcome complex issues your company might face.
This blog will cover the most effective critical thinking exercises, their importance, and their impact on individuals' performance, especially in the workplace. We will also offer you some extra tips for empowering these skills.
Critical thinking is one of the essential skills in many different fields. This skill helps you to analyze different situations, overcome biases and think out of the box while facing obstacles.
You can develop more comprehensive solutions while facing problems with critical thinking, find innovative solutions, and identify the leading cause of the real problem.
We need practical thinking exercises to become successful problem-solvers, boost our critical thinking skills, and improve our thinking methods. Getting used to essential routine thinking exercises can take our thinking process and decision-making method to the next level. This skill is one of the most crucial thinking abilities and it can increase an individual's IQ level.
You should possess and improve critical thinking skills, which you can do by exercising regularly. Whether you are getting ready for an exam or want to make a vital personal or professional decision, these exercises can help you empower your reasoning skills and become a creative problem-solver.
Why is Critical thinking important?
Soft skills are necessary for many job positions and my personal life. But critical thinking is a crucial soft skill as it can help you encourage others in life or the workplace, motivate them to participate in problem-solving and guide them during organizational complexities. Aside from that, there are so many other reasons which will explain the importance of critical thinking as some of them are as below:
Job improvement
Critical thinking skills are vital for improving your career in many fields, such as teaching, research, law, finance, or medicine. It is a crucial part of any job as its goal is to gain extra knowledge without bias, evaluate situations, develop creative solutions to problems, and innovatively solve them. As a result, employers are satisfied with employees with critical thinking skills.
Enhance decision making
Critical thinking will help you to decide by analyzing problems and conditions mindfully. This skill assists individuals in making vital life decisions, such as moving to a new city, changing a job, or getting a higher degree. Critical thinking encourages people to make rational decisions by doing more analytical research.
A better understanding of self
Critical thinking skills help people to have a better understanding of their feelings, goals, and accomplishments. It can help individuals change their personal and professional conditions and boost their satisfaction level. Critical thinkers consider events from different points of view. By self-examining, they can change their attitude based on the new information they receive.
Strong leadership
Critical thinkers can do professional research and find critical information regarding a specific matter. In addition, critical thinkers can master analyzing skills and develop innovative ideas. These skills benefit the workplace and prepare employees for their role as strong leaders.
How to enhance critical thinking skills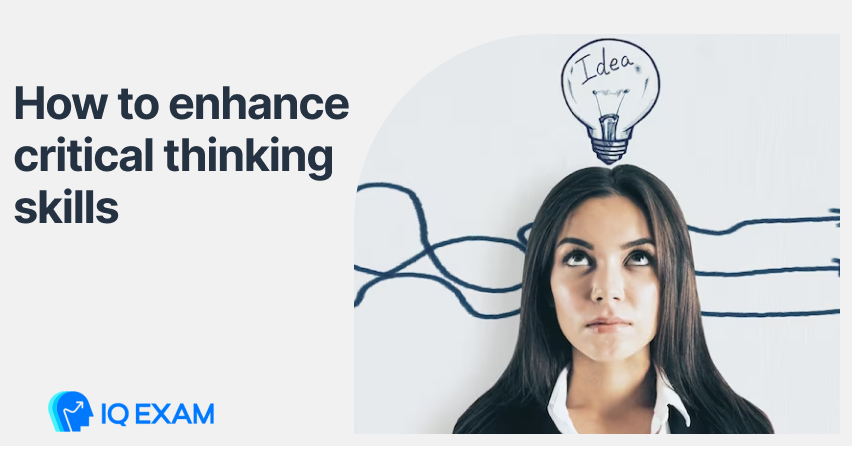 Individuals should be able to make wise decisions that can lead to the best results and involve their experience, communication skills, reasoning, and observation skills. Below are some of the most critical methods you can use to improve your critical thinking skills, as they can help you in many fields of your personal and professional life.
Understanding your intellectual skill
Everyone needs to know how they interpret, react, or listen to information, as it can increase productivity in the workplace. This understanding will also help you to make more unbiased decisions.
Be more self-aware
You should pay attention to your values and beliefs to develop self-awareness. If you are realistic about your strengths, weaknesses, and judgments, you can make more significant decisions.
Be an active listener
You must be involved in conversations to make good decisions when you talk to your colleagues or employer. You should pay attention to what they are saying and ask questions if you need help understanding or missing a part of a conversation.
Best Critical thinking exercises
Critical thinking is one of the most vital skills for any career or task. It will help you analyze everything without bias and let you see things from a different angle, eventually enhancing your creativity. If you want to come up with a new idea, solve a problem, or analyze the root of a problem, critical thinking can help you make better decisions.
On the other hand, it isn't easy to learn how to think critically. It is more complicated than learning to drive or a new language. There need to be specific instructions for you to follow so you can become a  more successful critical thinker. Therefore, you must exercise critical thinking while learning a new language until you get good at it. Some of the best exercises for critical thinking are as below: 
Test yourself with different approaches.
People have different ways of thinking and learning. You might have a specific taste in learning visual or physical concepts, but you must think differently if you want to think out of the box. For instance, if you constantly design charts to understand data and are still confused, try to write down the data and see if you know them better.
Talk to a six-year-old.
As Einstein believed, if you can't explain something to a six-year-old, you can't understand it yourself. The vital concept in this fact is that individuals must be able to explain something simply. So you can try and talk to a six years old about a problem, and when you do that, you will immediately understand which components of this subject you don't understand, and you will look at the problem from a different point of view.
Understand your biases
Everyone can be affected by different biases, some of which can impact the way we think, and some can affect the subjects that are important to us. Finding and understanding these biases can help us to work on them.
Work on a problem backward
This method can help you notice things you might miss or have ignored. For example, if you read a text backward, sentence by sentence, you can find many spelling and grammatical mistakes you couldn't see while reading the text typically.
Ask other people to explain their thinking processes.
Talking to other people about the problem you are dealing with can help you hear other ideas or solutions for solving the issue. But your main goal here is to understand their thinking process. People use different approaches to solve the same problem, and understanding people's thinking processes can help you expand and develop your thinking process.
Become an alien
This exercise will help you to practice your thinking skills. The scenario of this exercise is that you are a space alien who doesn't know anything about the Earth and has so many questions about it. So, you will ask the questions and also answer the questions yourself. You can explain the topic to yourself while answering it. This method can improve your critical thinking skills and give you more confidence.
Read every day
This method might sound like a simple exercise, but it is one of the best methods for enhancing your critical thinking skills. Reading can help you identify new ideas and perspectives, and your brain will also exercise daily. It doesn't matter what kind of book you read as all kinds of reading benefit you. Try to read some complex books once n a while to work out your brain.
Writing Exercise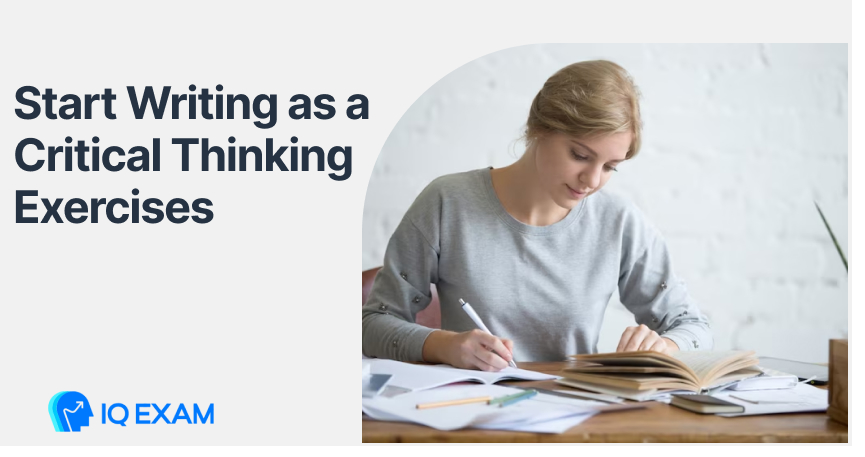 Create a diary or notebook of your accomplishments, and write down all the most important decisions you had made before which helped you reach your goals. It is also crucial to identify the mistakes you made in the past which led you to some unsuccessful experiences.
This method will help you gain insight into how you can make better decisions and recognize your strengths and weaknesses, which can affect your success level in life.
Start a debate
Debating has always been one of the favorite tasks for students who want to challenge their minds and look at problems differently. Most debates happen in school or college, but this doesn't mean you can't start a discussion with your friends and family. You can select a new topic that none of the debate sides has heard of so both sides can do some research and enhance their thinking process, which is also an excellent brain workout.
Build a mind map
If you are dealing with a complex problem and cannot find a solution, visual tools can help you a lot. For example, you can create a diagram or chart showing the different outcomes of a debate or scenario. This method will help you analyze your multiple options and guide you to think about the possible consequences or impacts you have never thought about.
Choose and solve someone else's problem
This method can mainly be used in work environments. It doesn't matter what job field you are working in; there are always some complex problems that no one wants to take responsibility for solving them. If you can find out how to solve this problem as no one else has done, you can enhance your critical thinking skills and, of course, get noticed by your employer.
Organize a team to solve a problem.
When you create a group for solving a problem or issue, you can hear and use different points of view and ideas, which will help you to look at the issue or problem from another angle and come up with many other solutions. This method can improve your critical thinking skills as you work with a team to evaluate a situation from different viewpoints t come up with innovative solutions.
Conclusion
Different exercises can help you improve your critical thinking skills, but changing the environment can lead to more remarkable accomplishments. When you try to communicate with critical thinkers around you, it is the best thing that can happen to you.
As these critical thinkers will share their thoughts and ideas with you freely and you can take advantage of a vast sea of knowledge and point of view, and as a result, you can come up with more creative and intelligent ideas.
On the other hand, if you are a hiring manager trying to create a team, identify people with strong critical thinking skills. If you follow this role, the best things can happen for an organization whose main objective is to develop and grow.
Individuals who use critical thinking in different circumstances can assess and analyze new data or information more productively. Critical thinking exercises can educate your brain for more advanced critical thinking skills. If you practice these exercises daily, you will get used to them as habits that will eventually assist you to help more critically in every aspect of your life.