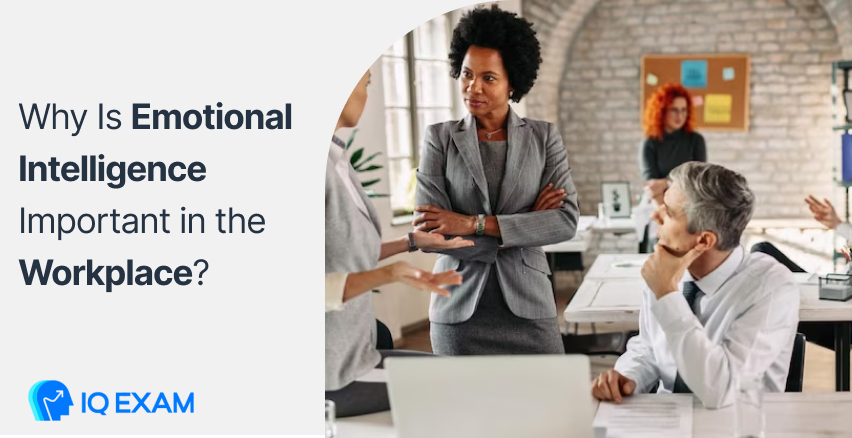 As you know, employees are one of the most important parts of every company and organization, and hiring managers always look for top talents who are smart and have essential skills to help the company grow.
Besides, most successful businesses look for candidates with great communication, leadership, and problem-solving skills who can perform well in their roles.
That is why emotional intelligence is one of the abilities that employers look for in every candidate to ensure they are hiring the right individuals.
But what is emotional intelligence, and does it even matter in the workplace? In this article, we are going to fully discuss emotional intelligence and examine its importance in the workplace.
What Is the Definition of Emotional Intelligence?
Emotional intelligence, also known as EI or EQ, is the ability to recognize, manage, and understand yours and other's emotions in different situations.
It is good to know that people with high EQ are more likely to adapt to new changes, distinguish their emotions, better understand others, control their feelings, etc.
Moreover, note that a large part of emotional intelligence means being able to think and identify how you and other people are feeling about a similar situation, which means consider how would you react if you were in the same situation.
What Are the Components of Emotional Intelligence?

Now that you are familiar with the definition of emotional intelligence, it is interesting to know that a psychologist named Daniel Goleman believed that emotional intelligence is way more important than an individual's IQ.
He also breaks EQ into 5 components that we are going to discuss in this section.
1- Empathy
As mentioned earlier, people with high EQ are more empathetic than others, so this is one of the main components of emotional intelligence.
Empathy is the ability to understand other's feelings and motivations, so you can put yourself in their shoes before judging them by mistake.
This will help you perform better in your career and personal relations because it helps you better understand people around you.
2- Self-awareness
It is the ability to identify your own feelings and mood and how they affect others; self-awareness helps you better understand how others may perceive your emotions.
3- Social Skills


People with high social skills can deal with others more easily because they communicate better.
Socially skilled people are good at speaking and listening to others; they are motivated colleagues at work and can resolve conflicts effectively.
4- Motivation
Motivation is the process that pushes people toward achieving their goals, even during challenging and difficult times.
A person with low motivation can easily be discouraged and give up, but a motivated person is always trying so hard to reach their goals.
5- Self-regulation
It means being able to control your thoughts and emotions and think well before acting. Moreover, self-regulation enables you to always treat others respectfully and stay in control.
How Can You Evaluate Emotional Intelligence?

There are different ways to evaluate your emotional intelligence, in the following we will explain 4 methods that help you in this way.
You can take an online test; you need to answer a series of multiple-choice questions, and the website will share the final result.
Another way is to ask others to test your emotional intelligence, which gives you an idea of how people perceive you.
You can choose a self-reporting assessment to understand how you see yourself. Such tests ask you questions about how you view yourself, and it's one of the easiest ways to measure your EQ.
Finally, you can take accurate ability tests that give you situations and responses to choose from them.
Advantages of Emotional Intelligence in the Workplace

Now that you are familiar with the definition of emotional intelligence and its components, it is time to examine the advantages of EQ in the workplace, which we will explain in this section.
Motivated Workplace
When most or all the employees of an organization have high levels of emotional intelligence, they are better at communication, building strong relationships, cooperation, etc., and all of these lead to a motivated work environment, which has many benefits for staff and managers.
Better Teamwork
It is good to know that individuals with higher emotional intelligence can work better as team members because they are better at communicating with others, can share new ideas easily, are good listeners, have more empathy, and think about others.
Therefore, such employees can be very helpful to the whole team and organization.
More Self-control
Emotionally intelligent employees know how to manage difficult situations, and it doesn't matter if they need to deal with an unhappy client or a superior; they can easily handle such situations, which leads to creating a calm workplace.
Better Self-awareness
As mentioned earlier, one of the biggest flexes of emotionally intelligent people is that they know their strengths and weaknesses, so they take feedback to use it to improve their personality.
As a result, these employees can easily handle receiving constructive feedback and take advantage of them to increase their productivity in the work environment because they know what they are capable of.
More Adaptability
Employees with higher emotional intelligence find it easier to adjust and adapt to new changes and situations and try to grow with the company. As you know, this personality trait is one of the best options for an employee, but remember that not all of them are open to that.
How to Improve Emotional Intelligence in the Workplace?

Communicate Effectively
Communicating with others at work and letting them talk to you about their feelings is a good way to better understand each other's emotions.
Doing so creates a positive work environment and makes it easier to build healthy relationships at work without fearing being judged or criticized for sharing thoughts and feelings.
Remember that as a manager, you need to communicate effectively and frequently with your employees to better understand their needs and thoughts so you can enhance EQ in the organization.
Practice and Show Empathy
As you may know, empathy is the ability to understand how someone feels about something by putting yourself in their shoes to imagine how you would react if you were them.
Being empathetic to others is a great factor for emotional intelligence at work. It helps you better understand your colleagues in different situations, so you know how to behave with others by understanding their emotions and thoughts.
Appreciate Employee Efforts
As a manager who wants to improve emotional intelligence in the workplace, you should know that employees are motivated to work harder when their managers see their efforts.
It helps them to feel they belong to the team and the company when they are appreciated for what they have done.
FAQs
1- Does EQ increase productivity in the work environment?
As you know by now, EQ is one of the essential factors in the workplace because it increases employee satisfaction and productivity, so emotional intelligence affect workplace productivity.
2- How does EQ affect job performance?
Emotional intelligence is a valuable skill that improves employee's communication, problem-solving, management, and relationships. All of these affect employee's job performance in a good way.
3- Does EQ improve workplace relations?
When employees and managers have high levels of EQ, the chances of creating good workplace relationships increase because they can communicate better, understand each other more effectively, etc.
Conclusion
As you know by now, emotional intelligence is an important factor at work to help you understand and manage your emotions and understand other's feelings better.
Moreover, remember that when both managers and employees have high levels of EQ, it is more likely that a positive workplace relationships will be created, which increase the productivity and has other benefits.
Besides, emotionally intelligent people can show more empathy and have better social skills; this also increase customer satisfaction.
We shared valuable and helpful information in this article to help you better understand emotional intelligence and its importance in the workplace.